The importance of supply chain visibility in healthcare
Lack of supply chain visibility in healthcare causes a serious loss of productivity and a threat to high-quality patient care. In fact, visibility has become a hot topic in recent years.
Supply chain visibility is a problem at the best of times, but the emergence of COVID-19 shed light on visibility issues in a whole new way.
Furthermore, the pandemic revealed several critical vulnerabilities throughout medical device and pharmaceutical supply chains.
For example, this includes demand surges for critical supplies, secondary product shortages, and transportation network breakdowns.
What's worse? These fractures occurred with little to no transparency and visibility between manufacturers and providers.
For the reason that ramping up elective procedures is now critical to the financial well-being of every health system in the United States, it is more critical than ever to understand what can be done to improve visibility and build a more resilient supply chain in the future.
What we learned from our healthcare supply chain visibility survey
VPL recognized an opportunity to use this critical time to better understand how COVID-19 has dramatically changed the way the industry operates.
All things considered, we commissioned a survey into the effects of visibility (or lack thereof) in the healthcare supply chain.
Survey demographics (192 responses):
Points associated with PPI orders: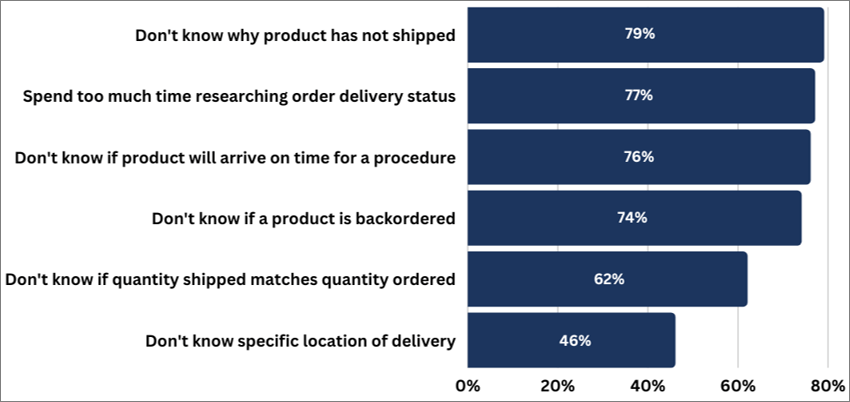 Download the whitepaper
Read the Considerations for Supply Chain Visibility Software whitepaper and learn how to:
Determine if supply chain visibility software is right for you
Figure out which solution might be right for you
Confirm existing trading partner collaboration
Consider end-user reach and value
VPL's core business started with inbound direct-to-IDN product logistics management, and expanded to cover provider-initiated movement (carrier, courier, LTL).
Now, we are also addressing the needs of IDN-operated specialty pharmacy.
Our vantage point allows us to see all of the direct-to-IDN purchases, products, origins and movements we aggregate.
As a result, this provides us with a unique "live" view that includes tracking, backorders, carrier, and weather disruptions, which in turn enables us to evaluate historical supplier performance.
If and when you're ready to chat about supply chain solutions for your healthcare organization, schedule a demo for an immediate response from our team.